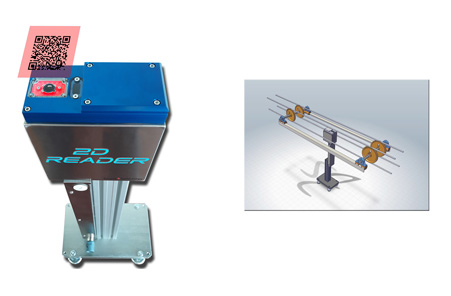 2D READER, INDUSTRY 4.0 FOR CERAMICS IS ALREADY HERE.
ADVANTAGES OF 2D READER
– Maximum line speed up to 50 meters / minute (depending on the type of tile)
– Communication mode: Modbus TCP.
– Up to 24 devices in the same network.
– Works in ambient light conditions of the environment.
– Works with all types of codes (DATAMATRIX is the recommended for ceramics)
– Distance between the reader and the tile, adjustable (between 120mm and 250mm)
– Continuous flow of air over the reader, to avoid sedimentation of dust.
– Extremely robust, encapsulated in a stainless steel case.
– Frame with height adjustment.
– Heavy and solid base, which allows to keep the equipment static without anchors.
TECHNICAL CHARACTERISTICS
Model
Voltage
Power
Compressed air
Weight
High
Width
Length
Working temperature range
V0
230V AC 50-60 Hz
0.22 Kw
No
34 Kg
Minimum 840 mm
Maximum 1300 mm
290 mm
400 mm
Between 0 and 45 degrees centigrade