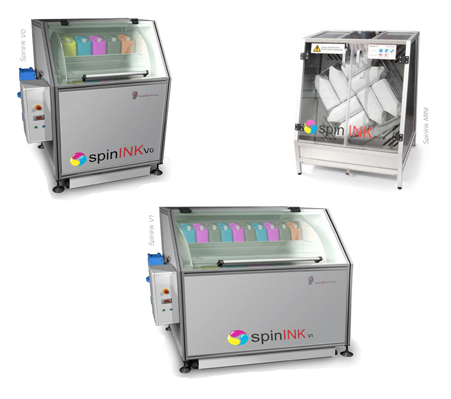 SPININK, THE WASTED PIGMENT, COSTS A LOT OF MONEY AND ALSO CONTAMINATES THE PLANET
SPININK SPECIFICATIONS
– Compatible with all packaging models: Carafes, bottles, boxes, Cubitainer …
– Temperature control.
– Anti-spill tray, in case some container is open / broken.
– Always fresh ink ready to be used, guaranteeing maximum performance.
– Avoid problems with the printheads, due to the sedimentation of the ink.
– Avoid expiration of the ink.
– Avoid tone changes due to temperature difference.
– Designed to work continuously, without interruption.
– Manufactured with stainless steel and aluminum.
TECHNICAL CHARACTERISTICS
Model
Voltage
Power
Weight
High
Width
Lenght
Capacity
Maximum load
Rotation speed
Temperature control
V1
230V AC 50-60 Hz
4.5 Kw
560 Kg
1240 mm
1200 mm
1820 mm
36 packages of 5 Kg = 180 Kg
20 packages of 10 Kg = 200 Kg
250 Kg
From 6 to 30 rpm
up to 50 degrees centigrade (only heat)
V0
230V AC 50-60 Hz
4.5 Kw
440 Kg
1500 mm
1010 mm
1290 mm
20 packages of 5 Kg = 100 Kg
12 Cubitainers of 10 Kg = 120 Kg
150 Kg
From 6 to 30 rpm
up to 50 degrees centigrade (only heat)
MINI
230V AC 50-60 Hz
1.7 Kw
90 Kg
1040 mm
750 mm
830 mm
8 packages of 5 Kg = 40 Kg
4 Cubitainers of 10 Kg = 40 Kg
55 Kg
FIXED: 30 rpm
up to 50 degrees centigrade (only heat)