ONTROLINK, in combination with INKTESTER DIGITAL, allows you to continue expanding your laboratory for ink control and development
Add to your INKTESTER DIGITAL, as many CONTROL INK as necessary, as you need them, without limits. The more INK CONTROL you have, the greater your work independence.
Increase your ability to perform simultaneous tests with different inks. Allow multidisciplinary teams to share INKTESTER DIGITAL, but each of them manage their own inks.
The CONTROL INK takes advantage of the printing functions of INKTESTER DIGITAL, but it is a totally independent and autonomous ink circuit.
DO NOT SET LIMITS TO YOUR BUSINESS GROWTH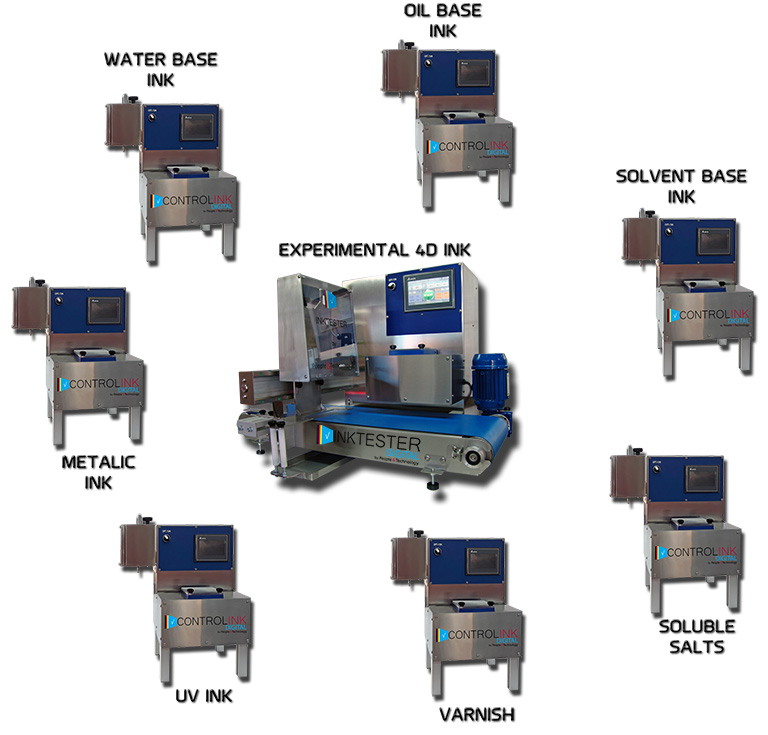 ADVANTAGES OF ADDING INK CONTROL TO YOUR DIGITAL INKTESTER
Test simultaneously, two inks incompatible with each other.
Allow more than one technician to work with INKTESTER DIGITAL, but each with its own project.
Improvement of inks. In one block you keep the original ink, while in another you have the improved ink. In this way you can compare the evolution always maintaining the original pattern.
Keep in an CONTROL INK, an ink recirculating for several days, with suitable temperature and meniscus parameters. With this you can perform sedimentation tests, while you can continue using INKTESTER DIGITAL without losing work days.
Evaluate a set of colors simultaneously.
Compare inks from different manufacturers, simultaneously. Same temperature, same flow, same pressure, same waveform, same ambient temperature, same relative humidity. All identical except the inks. Which one best suits your needs? How is your competition?
Use CONTROL INK to print directly on your plotter.